This morning the president of the Catalan Government, Carles Puigdemont, received Ciutadans spokeswoman Inés Arrimadas at the Palau de la Generalitat in efforts to establish "flowing and constant dialogue" between the Executive and parliamentary opposition.
In an ensuing press conference held by the Minister of the Presidency, Neus Munté affirmed that both President Puigdemont and Inés Arrimadas agreed that it is necessary to "prioritize cooperation" in matters strictly related to "social welfare", and "put aside the evident and legitimate differences" in these matters.
According to Spokeswoman Munté, "all measures that have been put on the table, both by the President and by Miss Arrimadas, denote a willingness to work in favour of social progress". "As a government," she continued, "we understand the need to have the tools available in order to improve the welfare and quality of life of people, which is clearly derived from the sovereignty process". Although this aspect is not a "shared" issue, there are other "pathways that can allow us to work on coinciding issues", explained Munté.
Among these shared 'pathways' that "are intended to benefit the people and favour social progress", President Puigdemont included the new Bill on Climate Change approved by the Executive Council earlier this week; the area of infrastructures and mobility, the fight against jihadist terrorism and the social emergency plan, which is centred "above all" on child poverty, energy poverty, housing and the battle against unemployment.
The implementation of the Law on Professional Training (Llei of Formació Professional), approved in the previous legislature, which demonstrates "the clear willingness to improve employment opportunities" and the repeal of the Lomce Law, passed by the State government, were also topics of discussion between the two political figures. Furthermore, both agreed on the need to work together to fight against tax fraud, uphold transparency and combine efforts to find "areas of understanding" with regards to Catalonia's electoral law.
Images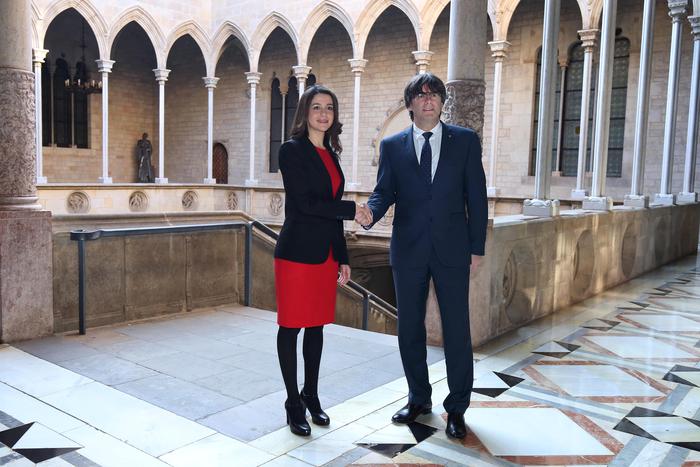 Vídeos